Regular price
£52.61
Sale price
£26.30
Unit price
per
Sale
Sold out
🚚 FREE SHIPPING Everyday!
📦 30 days return policy
UK Customer Service
Help say goodbye to wrinkles, blemishes, and damaged skin thanks to this innovative and new 4 in 1 mesotherapy device! Our Mesolight is your easy, affordable, at-home solution to radiant, younger-looking skin. 

It promotes skin rejuvenation of collagen and hyaluronic acid by conducting muscle stimulation and electroporation using mesotherapy.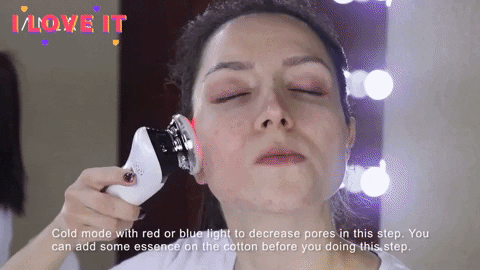 ⭐⭐⭐⭐⭐
"I've been using it for a month and the results are fantastic! My skin feels softer and plumper, even my friends told me I look young for my age
! I guess when others notice the difference too, you know it's really working! If you're like me who's tried many things you've gotta give it a shot!" 
- Marie D. Pointer, Adelaide
 Renew Skin Cells: Cleans, softens, brightens, tones, and rejuvenates your skin giving you a radiant, youth-looking complexion like never before.
 Reduces Fine Lines and Wrinkles: Red light therapy stimulates collagen production in your skin, the element responsible for giving young skin its plump look.
 Become Ageless: From young adults to sixty pluses, Mesolight™ will make your skin look and feel great for your age. Get ready for compliments from your loved ones!
 Reduces Acne & Scarring: Blue light therapy is proven to reduce oil buildup in the sebaceous glands which is the source of acne, leading to clearer skin.
 Enhanced Undereye Care: Together with an eye cream, it lightens the dark circles and achieving a brighter appearance around the eye area.
 Portable: Ergonomic, small, lightweight - enjoy relaxing skin massage everywhere you go.
HOW DOES IT WORK?
It uses both microcurrents and light therapy to boost collagen production, lighten pigmentation, and tighten loose skin.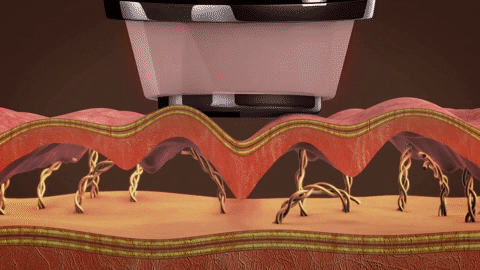 4 Luxurious Treatments In 1 Little Device
CLEANSING
Provide a better cleaning solution for a deeper cleanser to reveal your naturally soft and clean skin. 


LED Light Therapy


The Blue light therapy clears up acne, minimizes redness and irritation (eczema, rosacea, psoriasis), balances skin pH, reduces stress, and relaxes the skin. The Red light therapy carries anti-aging effect: stimulates collagen production, shrinks enlarged pores, lifts and tightens skin, heals scars, reduces fine lines & wrinkles, improves skin elasticity, accelerates blood circulation. 




Warm Vibrational Massage 


Warm vibrational massage enhances the absorption of your favorite cream and skincare essentials to give maximum results, stretches skin texture, and makes skin plump.




Eye Care 
Lightens dark spots, aging spots, under-eye circles revealing a brighter skin complexion. 

HOW TO USE
Clean skin and apply a hydrating lotion/serum (e.g. hyaluronic acid) on the skin and get the device ready for use.





Massage the area of the skin with it for up to 10 minutes per day.





Clean your fresh, rejuvenated skin and notice the difference after 3-4 weeks. Results may vary depending on skin type and conditions. 



Customer Feedback:
The device should not be used under any of the following conditions:
Pregnancy

Epilepsy

Blood circulation disorder

Allergic reactions to serums

Aged 18 or under 
CLICK
 

ADD TO CART

 

TO START GETTING YOUTHFUL SKIN IN JUST TWO WEEKS
Share
View full details